Discover more from is this emotional labor?
personal - fictional - culinarial explorations by Catherine Blake Smith the c b s network
Quiche and Tell: Swiss Pancetta Quiche Recipe
Ever accidentally buy the wrong type of cheese? Well let me tell you that this Julia Child recipe was handy to adapt for a comforting weeknight dinner dish!
I adapted this Swiss Pancetta Quiche recipe from one by Julia Child I found to feature delicious pancetta chunks, shredded Swiss cheese, and warming spices, all served with a lovely side salad.
Tools
Pie plate

Measuring glass

Fork

Cheese grater

Sauté pan

Spatula

Optional: measuring spoons, whisk
Ingredients
4 oz pancetta, cubed

1/2 onion, diced

3 eggs

Heavy whipping cream

Salt, to taste

Pepper, to taste

Sumac, to taste

Nutmeg, to taste

1 cup Swiss cheese, shredded

1 Tbsp butter, broken up into pea size dots

Pastry shell, partly cooked
Preparation
Prepare pie crust:

I used a store bought pie crust, so I followed the instructions to let it slightly thaw and then rolled out to fit into my pan.

After gathering ingredients, I set the oven to 400º and pre-baked the shell for 8-10 minutes with pie weights.

While pie crust is pre-baking:

Next I diced the onion and browned the pancetta in a cast iron skillet. After the pancetta was cooked to my liking, I added the diced onion to cook until soft. You can use any meat or onion here, but the diced pancetta was so handy for a quick night dinner and I happened to have a yellow onion on hand.

While the meat and onions are cooking:

Next I mixed 3 eggs and added heavy cream until it reached the 1 1/2 cup line of my Pyrex container, per the instructions. Some comments said this was a typo and others adjusted the ratio of eggs to cream to their liking. For those of you who know quiche better than I do, this will not be a surprise. I liked the ratio suggested in the recipe and understood the instruction to mix my eggs and then add cream to 1 1/2 cups.

For seasonings, I wanted to have something warming and a bit unique:

In addition to salt and freshly ground pepper (not pictured) and a pinch of nutmeg, I also added a dash of sumac.

Shred the cheese:

This whole thing started because I accidentally bought the wrong kind of cheese at the store and ended up with Swiss instead of my favorite Sharp cheddar.

Once the shell is prepped:

Add the pancetta and onions, then cover with cheese. Pour egg mixture over everything. Then add the pats of butter to the top. Ignore the comment about omitting the butter. The butter is what took this quiche to the next level. Thank you, Julia.

Bake 25-30 minutes until browned.
This quiche turned out incredible, and if you're looking for a quick and elegant thing to throw together for dinner with ingredients you bought by accident, I suggest putting your own twist on this yummy dish. I served my quiche with a quick arugula salad and cherry tomatoes and sliced cucumbers dressed with olive oil, balsamic vinegar, and salt and pepper.
Bon appétit!
Process Pictures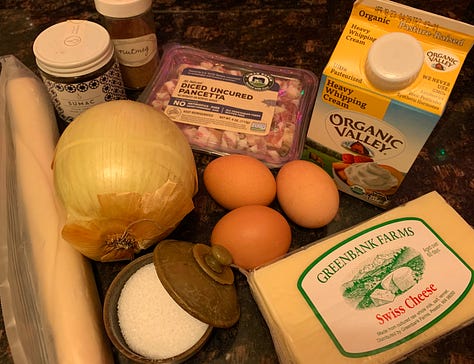 Thanks for reading is this emotional labor?! Subscribe for free to receive new posts and support my work.