Discover more from is this emotional labor?
personal - fictional - culinarial explorations by Catherine Blake Smith the c b s network
Poudre Douce: The Origin of "Pumpkin Spice"
How do we know what we want and how we should feel? Why not choose something both sweet and complex, like a seasoning blend like Poudre Douce that goes beyond "just" cinnamon and nutmeg?
I first learned about Poudre Douce ("sweet powder") from a pilfered stock of World Spice Merchants blends when I lived with several housemates in the Central District. I was first attracted to it because it I could tell it was made from cinnamon and nutmeg, but seemed to contain so much more. Along with its savory counterpart Poudre de Colombo, Poudre Douce was a delicious mystery spice blend that I kept in reserve in my pantry, only using sparingly until lockdown in 2020.
Since then, I've started using it everywhere I might use cinnamon: sprinkle on my coffee, flavor burst in oatmeal, my annual Coquito, and even in cookies and cakes. Once I ran out, I had to look up a recipe blend online to make more. I not only learned that Poudre Douce originated in the Medieval era, but also that the balance of sweet and savory components always seems to change based on the whims of the blender. My first batch was made in late October 2022, and now in mid-January 2023 I am already running low enough to warrant another round.
Is it the original Pumpkin Spice? Pretty much. But Poudre Douce can be so much more. It's become the perfect blend I call on when I know want to feel comforted and am craving something more dynamic than cinnamon. I am still experimenting with my proportions, but so far I find the ones included in this recipe create a pleasant balance between earthy and sparkly. You can use this blend anytime you might add cinnamon or nutmeg or even pumpkin spice and there is room for adventure.
Tools
Small spice jar with lid

Mixing bowl

Measuring spoons

Fork

Mortar and pestle (for any whole ingredients)
Ingredients
3 Tbsp cinnamon powder

1 1/2 Tbsp brown sugar

1/2 Tbsp ground ginger powder

1 tsp ground clove powder

1 tsp ground nutmeg powder

3/4 tsp ground allspice

Grind 1/2 whole allspice berries

1/4 tsp ground pepper

1/4 tsp salt
Preparation
Measure ingredients into a small bowl

Grind any ingredients necessary

Mix all spices together with a fork to break up any clumps

Store spice blend in a small spice jar

Add as seasoning!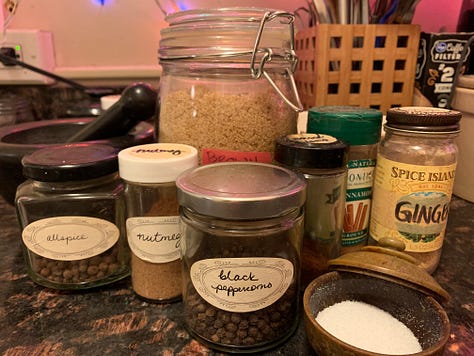 You can experiment with this mix to make it more spicy or sweet by adding pepper or sugar, or you can adjust any of the other ingredients until it smells perfect to you.
References
For this recipe, I used the ingredient list from World Spice Merchants and started with the proportions and ingredients from this Food52 recipe.
While researching, I found several other sites about this historic spice blend: